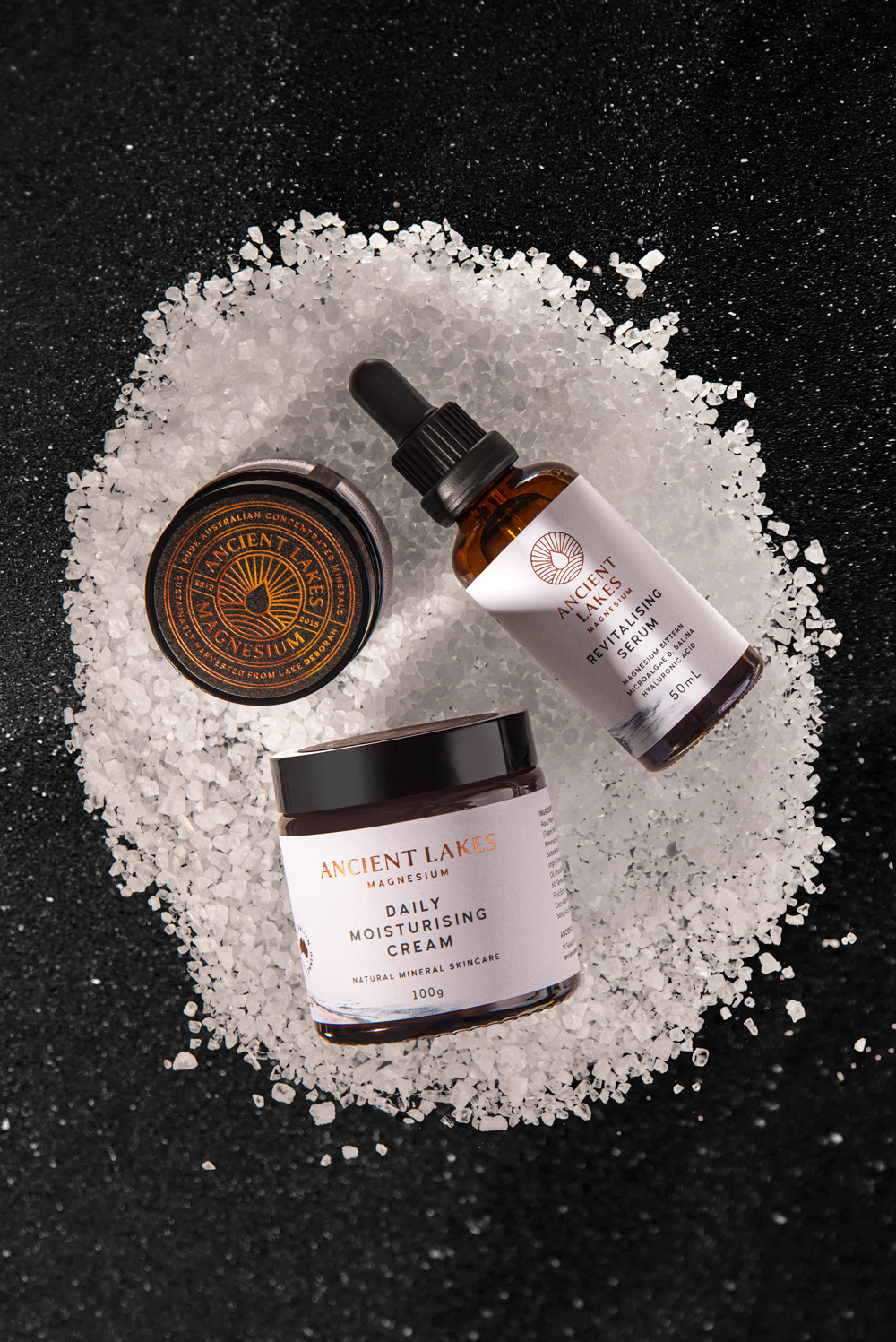 CATEGORIES: Branding. Packaging. Photography.
Deep within the heart of Western Australia's remote outback lies Lake Deborah, an unspoiled, natural, ancient salt lake hugged by red dirt and the scenic beauty of Australia's flora and fauna.
It is here, where this majestic five-million-year-old salt lake flourishes in a pristine environment and produces pure and natural magnesium rich minerals and salt deposits. Something truly unique.
After uncovering the high potency magnesium minerals and essential trace elements just below the salt layer – Ancient Lakes developed a Natural Liquid Magnesium to support modern lifestyles and diets, as well as mineral balancing salts and an all-natural skincare range featuring essential oils, organic botanicals and plant extracts.
Having already attracted a devoted following and established a brand presence, Ancient Lakes wanted to review and refresh their brand before bringing it to a larger audience and bigger retail space to help others discover the benefits of their magnesium and mineral rich salts.
Lake Deborah is something truly magnificent. Photographs of this natural wonder and breath-taking colours, feature on the product packaging. The illustrative logo, highlights a liquid drop representing the pure and natural magnesium directly sourced from this wonderous lake.
Copper foil was added to the Ancient Lakes' brand to not only elevate the brand and highlight their premium product range, but also convey a sense of rarity and uniqueness due to the specific geological and environmental conditions required for the mineral rich salts to form.
Ancient Lakes Magnesium is all about the source of our unique minerals – pristine Lake Deborah in remote WA. Our products are created naturally by the action of the sun and the wind on the minerals in the lake, and Dessein have distilled this essence perfectly into our new logo – which encapsulates the natural processes behind our brand. Dessein's rebrand reflects our source with a refined depiction of Lake Deborah on our packaging and also metallic copper foil elements which echo the red soils around the lake. We couldn't be happier with our new look!
Emily Nicholls, Ancient Lakes Magnesium Pty Ltd.